Step 1: Packaging
.
Choose the packaging type for your box based on your individual needs.
Step 2: Products
.
Select the right products for your box based on your employer brand.
View all products
Step 3: Customizations
.
Customize your box further to make your employer brand stand out even more.
Take the extra step and automate all your employee deliveries
.
From preboarding to onboarding boxes - and everything after that - automate all employee merchandise workflows by integrating the mula platform with your HRIS tool.
View all integrations
One solution for all your merchandise needs
.
From product branding to storage and order fullfilment – the mula solution offers automated workflows and more flexibility managing your merchandise. The best part? All your processes are centralized in one intuitive platform.
Learn more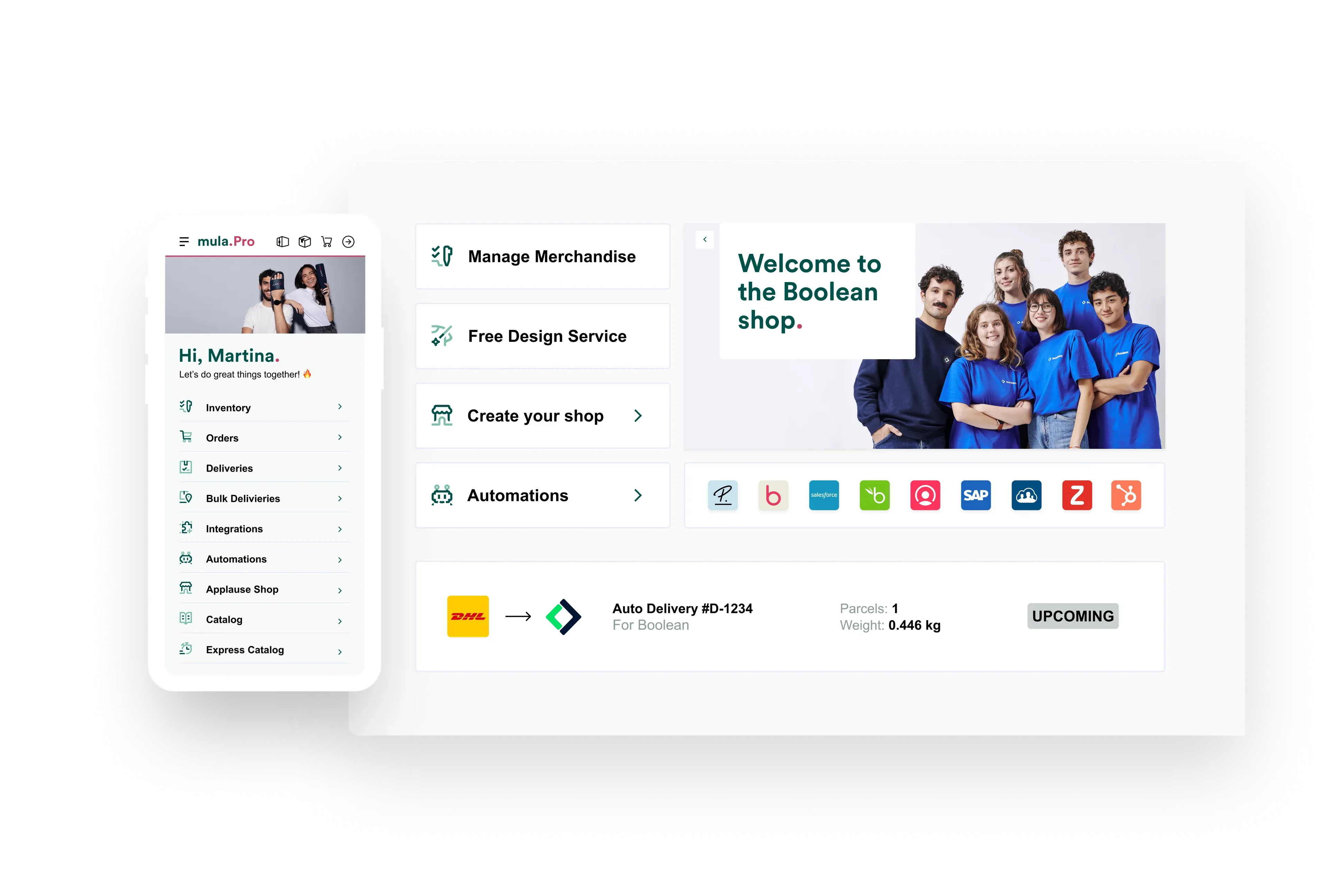 Frequently asked questions
.
The main difference is the time you sent the box to your new hire. Preboarding boxes usually get sent out after they sign with you, but before their first day. Onboarding boxes are usually received on the first working day. They both contain branded products, but they are different in terms of what content and outcome they prioritize - preboarding boxes usually contain information about your company and aim at retaining your new hire until their first day, while onboarding boxes contain team and office items - think a hoodie and a notebook - and aim at making your new employee feel included and ready in their new position.
A great preboarding box usually includes relevant information on your company and a brand product that retain your new hire until their first day. We recommend to have one stand-out product in a preboarding box, rather than including multiple products, like you usually would in an onboarding box. This product should be something special, something that really shows your appreciation that this new hire chose your company to work for. The easiest way to achieve that is to go with something more expensive of course, but the pricing is not the deciding factor here. The product just needs to have that certain "wow" factor. Additionally, you can include a flyer or similar, in which to tell your company story or elaborate further on your employer brand values.
Getting your onboarding box for new hires right is one of the most surefire ways to up your employer branding game. Since welcoming new employees with onboarding boxes has become a standard for most companies, you need to get this right in order to stand out from the competition. That being said, an onboarding box is something very personal to each employer brand. Therefore it is impossible to give a stencil pattern of the "perfect" onboarding box. However, there are a few best practices you can follow to get this right. Number one, choose packaging and products that are both meaning- and useful. Is sustainability part of your company values? Then you should choose sustainable options for packaging and products. Is one of your employee benefits a "cycle to work" scheme? Maybe include a bike product. Number two, brand and customize to the max. Now, that does not mean you need to add crazy patterns all over the products you chose (unless you want to), but you should do more than just slap a logo on them. Get strategic, and think about how to communicate your brand through product design - your dedicated mula designer can help you do so. And last but not least: get personal. Do not forget to add in a personal message to your new hire with a welcoming greeting. Follow these steps, and we promise your onboarding box will be a success.
You can customize your box and its contents in a lot of different ways. For your products, you can choose from a broad pantone color palette as well as a lot of different add-ons. Your packaging can be customized using duct tape for a unified look, custom tissue paper featuring your logo or design, a water and tear-resistant polybag, and filling material to both protect your items and elevate the box's appearance. We do have some limitations for some product and packaging options, but in general you can go completely wild here.